Stormbreak Together, the story so far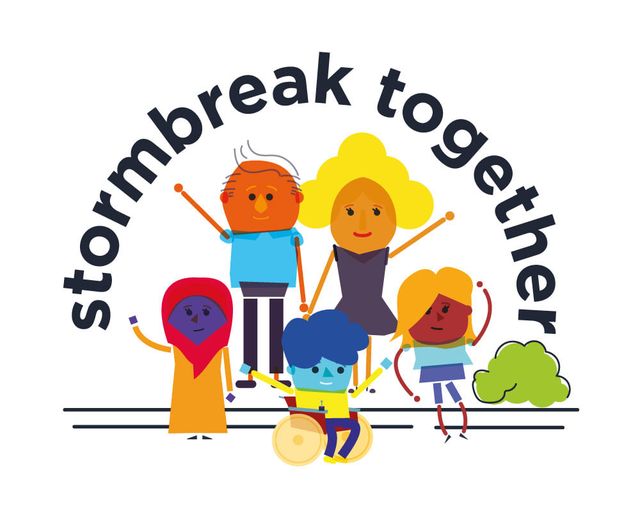 "Stormbreak has calmed me down and boosted me (in finding ways to support my child). It's one of the best tools that has come out in a long time. Every family needs this"
- NFA parent, March 2021
While the reach of stormbreak is mostly seen in schools to date, behind the scenes, a small dedicated team has been working on launching and embedding stormbreak into a group of foster families, providing support for foster parents with strategies for children's mental health and emotional wellbeing.
Stormbreak Together gives an opportunity for trusted adults and the children they live with, work with, care for and support to recognise, respond and regulate emotional health through mentally healthy movement.
Together is a scalable and effective approach to support children's mental health through movement in foster family placements, specialist schools and residential care.
Stormbreak Together launched as a pilot scheme in Wales in January 2021 with the support of NFA Wales, the National Foster Agency covering predominantly South and Mid Wales.
The stormbreak together programme aims to:
help to strengthen placement stability,
offer children additional therapeutic support in their foster home settings,
support the care team around the child,
build a bond between children, families and the stormbreak team,
support ongoing carer retention
and improve outcomes in foster families.
Stormbreak mental health lead Clare Williams and Kate Bone, head of coaching and development, planned and delivered the programme focusing around the five stormbreak mental health strands: resilience, self care, relationships, self worth, and hope and optimism. Pilot project families worked through sessions with the stormbreak team, understanding a specific pathway, delivering a stormbreak in their home then reflecting on it in an online journal.
An example journal activity can be seen here: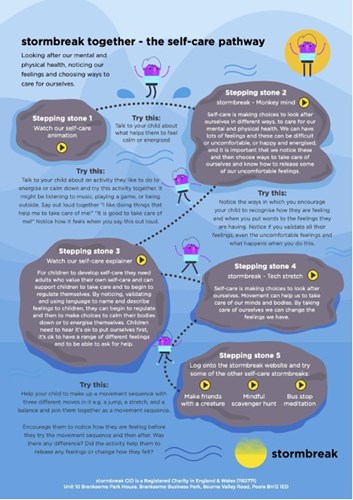 Foster parents were positive in the feedback, reflecting that stormbreak helped to build bonds, connections and trust in families both from foster parent to child as well as linking conversations with older children at home.
Data collected during the pilot indicated:
97% of families said that the stormbreak sessions are understandable.
97% of families said that they have found that the mental health and wellbeing resources that stormbreak has linked them with are useful.
91% of families said that the training will help them to embed stormbreak into family life.
All families engaged in the provision of valuable feedback about their experience of the Stormbreak Together Training.
Families engaged well with the training, to support them to connect with the foster family community, to embed stormbreak and to mainstream conversations about mental health and wellbeing within family life.
Importantly, the experience of families in seeing the utility of stormbreak, making use of the resources on offer and confidence to embed stormbreak into family life has increased gradually over time.
Families told an independent evaluator at Bournemouth University that the sessions were useful, that sharing experiences has been helpful and that it's been useful to explore different emotions and learn how to manage these in the family. They described sessions as 'uplifting' and 'powerful' with great potential to support stable families.
"The difference we saw in the foster parents over that pilot scheme was incredible," comments Kate Bone. "Often foster parents would feed back to us that stormbreak was giving them the tools they needed to have quite difficult conversations with both their foster and birth children in a relaxed, fun and positive way. The discussions with families often felt emotional and pivotal between ourselves, parents and social workers"
Stormbreak is currently working with other foster agencies as we look ahead to 2022 as well as working towards building relationships with other community organisations and agencies including in residential schools, units and children in private and public sector care.
Do you work with looked after children as a social worker, carer, professional or parent? Want to know more? Get in touch at hello@stormbreak.org.uk