Connect with stormbreak for Children's Mental Health Week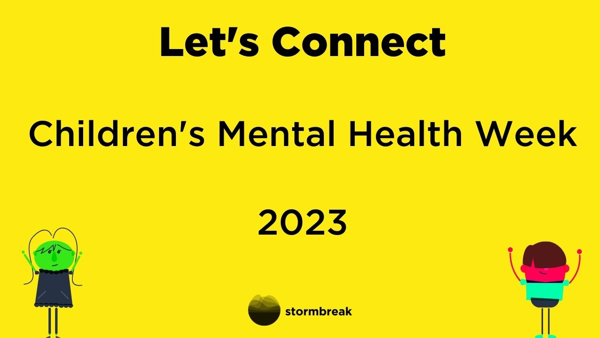 The theme for Children's Mental Health Week 2023, 6th-11th February, is "Let's Connect."
From the point of birth, humans are dependent on connections with others for their survival. From basic needs, like food and warmth, to emotional needs, like touch and smiling faces; without healthy connections human babies will almost certainly fail to thrive. We also know that strong human connections in adulthood promotes both physical and emotional wellbeing; isolation and loneliness are significant factors that undermine human thriving in the golden years of life. 
But what about the formative years of life, during childhood and adolescence? The need to connect is ever present and ever changing as children's development progresses. From learning to play together in the early years, to emerging independence from carers in the teen years. Healthy relationships in childhood are not only limited to primary caregivers. Other trusted adults and peers are crucial for children to build and develop meaningful connections. 
Whilst it is a human need to connect, it is also a skill to be learned. Connecting with wider groups of people, and in larger communities, has benefits on thriving and mental wellbeing. Teaching our children how to connect, through role-modelling and social coaching, is vital to enabling relationships, which supports thriving, both today and into the future. Training children to be socially competent will empower them to experience and enjoy helpful and healthy relationships for years to come.
At stormbreak we believe that children thrive when they have healthy relationships surrounding them. We believe that children can learn how to build healthy connections through enjoying movement based activities together. We place relationships in childhood, as a fundamental foundation that promotes emotional literacy today and protects mental wellbeing into adulthood. 
Here are a few ideas for how stormbreak can help you to connect with others in the upcoming Children's Mental Health Week.
Use stormbreak to create opportunities to connect
The trusted adults we work with tell us that stormbreak creates moments of connection when they stormbreak with children. We have also found that doing a stormbreak together promotes the trusted adult's sense of mental wellbeing too!
Use stormbreak to start a conversation
We know that children often find it easier to talk about challenging things, when they are doing an activity alongside another. That's OK, you can use these moments of connection through stormbreak and lead into curious conversations that explore how the child is feeling, what they understand about a challenging situation or what they can do to help change things for the better. Each conversation deepens your connection, helping the child to internalise their sense of self-worth and promote their mental wellbeing. 
Watch the stormbreak Relationships concept animation together
Our concept animations are a great starting point to get children thinking about the skill of forming, developing and sustaining quality relationships. The last few years have had an impact on our children's emotional and social development. Reduced opportunities for our children to socialise, meant reduced opportunities to learn and develop the emotional and social competence skills that they need. This social learning deficit is having an impact in other areas of childhood. Helping children understand how to connect with others in healthy ways is a step forward in recovery from the pandemic.
Do a stormbreak as a group
Taking time to stormbreak as a collective multiplies the opportunity for connecting! The enjoyment factor is multiplied and the opportunity for social learning is increased. It's really true - the more the merrier. Many of our stormbreak activities are designed to be used in a group setting, to help everyone learn together the skills that are needed to connect well. 
Listening with intent to validate experiences
A sure way to connect with others is to actively listen to them. When they share something important with you, it may sometimes be easy to miss the importance because it's just not important to you. By role modelling compassionate and non-judgemental listening you can  help children to learn skills to connect and experience connections. Remember it doesn't take any longer to validate a child's experience. Simply acknowledging the impact of an experience on their emotions is a sure fire way to connect with someone, it's letting them know that you have seen and heard them.
There are loads of other resources for children, and adults, to help deepen their understanding of relationships and mental wellbeing on our website. Have a look!
stormbreaks
Fun to connect
Calm to connect
Make Friends With A Creature
Understanding to connect