How to take part in the stormbreak schools challenge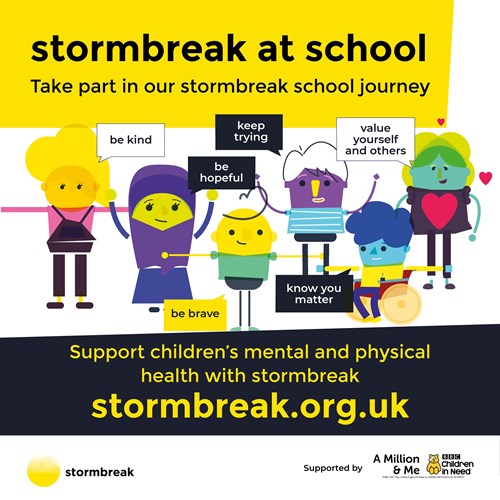 What is the stormbreak school challenge?
The stormbreak challenge encourages users to regularly watch and take part in stormbreaks - choose from our library of 'stormbreaks' and participate in our mentally healthy movement activities.
See your group, team or child(ren) progress, collect virtual badges and printable certificates after every 5, 10, 15, 20 and 25 completed stormbreaks (you can complete as many stormbreaks as you like and all will be 'logged' but you only one per day will count towards the challenge).
Complete the challenge by taking part in for 25 days worth of stormbreaks.
Then you'll be ready to start again!
1 stormbreak every school day = 5 weeks! How long will it take your group, team or child(ren)?
Getting started...
Create a stormbreak account for your school using a school email address and an appropriate password
Create groups, teams and children (these can be set up for teachers, classes and or pastoral groups etc) 
Repeat step 2 to create as many other groups, teams or children in your school as you like
Finally invite other school staff to join your organisation clicking on 'invite others' on the drop down menu found by clicking your name in the top right hand corner of the screen
Click here to watch a video explaining the process in more detail.
Taking part...
Log on and select which group is watching
Choose a stormbreak to do based on what you'd like to support your children with, how they feel, what you'd like them to focus on
Hit play, watch and take part in a fun 5-15 minute session where one of our stormbreak coaches/teachers will get your group moving and talking/thinking about their mental health
Trusted adults (teachers, pastoral care workers) should join in with the stormbreak and try to engage in mentally healthy conversation based on the content of the stormbreak
Click 'My stormbreak' to see your group's progress. Every 5 days of stormbreaks  completed will earn your group a virtual badge and allow you to print a group certificate. Progress from yellow all the way through to the rainbow award! 
You can also…
Watch expert videos on the mental health concepts of resilience, self-care, relationships, self-worth and hope & optimism
Watch animations explaining the mental health concepts in a child-friendly manner
If you are keen for your school to be more involved and be able to deliver your own stormbreaks and really engage in mentally healthy movement and conversation email us at hello@stormbreak.org.uk to talk some more about our whole school development programme, 'Surge'. Click here for more information.
NB: All stormbreak participation should be supervised by the teacher/pastoral worker, trusted adult, parent, carer/guardian as account holder for maximum impact.